Screw conveyors are used in many different sectors for the transport, feeding and dosing of solid fluid materials. Screw conveyors provide working with a unit that moves this shaft with a helix attached to the rotating shaft in the pipe or vessel. As the shaft rotates, the material feeds the screw conveyor with the axial effect of the helix. Cement Screw conveyors are simple in design, easy to maintain and have a low width, allowing the materials to be discharged at different points. The chemical and physical properties of the material to be transported are taken into account in the design of the Cement Conveyor.
Such cement screw conveyors are generally not used for conveying large pieces of fragile, abrasive, compressible and sticky materials; They are effective in regular feeding. We currently manufacture 168-219-273-323 mm cement screw conveyors. In addition, according to customer demand, we provide special cement conveyor design in desired dimensions.
THE MAIN ELEMENTS THAT MAKE UP CEMENT CONVEYORS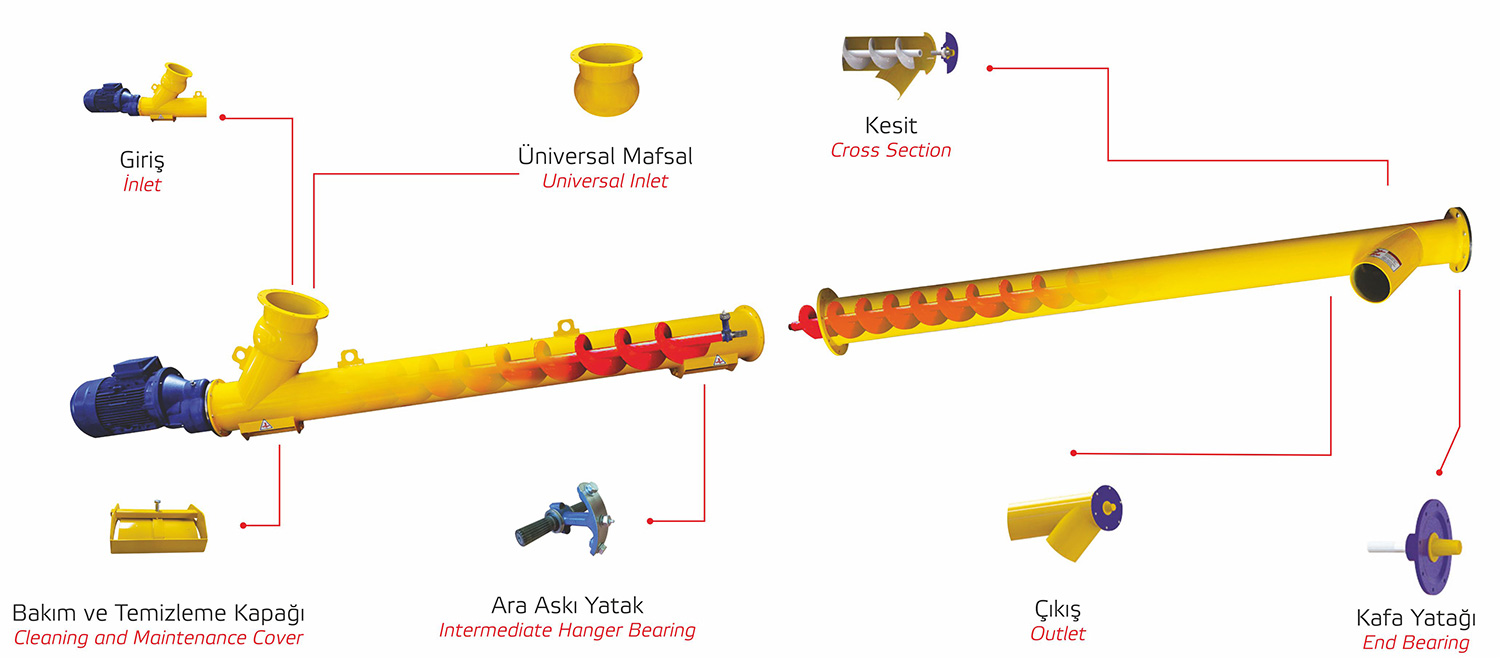 helix Spiral
inner tube
outer pipe
intermediate hanger bearing
inlet
outlet
End flanges
maintenance covers
Reducer sealing
Gearbox and motor conforming to standards
End bearing
Universal Joint
Usage Areas of Screw Conveyors
-Screw conveyors are used to transport chemical materials.
-Screw conveyors are used in powder transport systems.
-Screw conveyors are used to transfer materials that require mixing.
-Cement screw conveyors are used in concrete plants to take cement and similar solid fluids from silos or other storage volumes and transport them to the desired location
Advantages of Cement Conveyors
-Cement conveyors are compact
-Easy to assemble and disassemble.
-The presence of cleaning and maintenance covers on cement conveyors provides convenience.
-Spare parts are easily supplied.
Disadvantages of Cement Conveyors
-The transfer distances of screw conveyors are generally limited.
– Very abrasive materials are not transported on cement conveyors.
-The energy consumption of the spirals is high.
– In spiral conveyors, transfer systems should be used for very long distances.
Design of Screw Conveyors
There are three important element in the screw conveyor. We can list them as follows;
1-Power requirement of the screw conveyor
2-Capacity of screw conveyors
3- Drawing the openings of the spiral leaves for production
1-Screw Conveyor Power Calculation
The most important factors for power calculation of screw conveyors are;
P1= Power enough to operate the screw conveyor when it is empty
P2= Power enough for the screw conveyor to carry the material horizontally
P3= If the screw conveyor is inclined, enough power to raise the material
P= P1+P2+P3

With the sum of these factors, the total power requirement is obtained.
P1= D*L/20
P2= µ*Q*L / 367
P3=Q*H/367
P=Total required power (KW)
D=Screw diameter (meters)
L=Screw length (meters)
H=Vertical distance to which the material will be lifted (m)
Q=Screw capacity (Ton/hour)
μ =coefficient of material resistance (See Table 3)
b:Width of auger blade (mm)
D:Screw outer diameter
d Spiral shaft diameter
S Pitch of the helix
A:The outer circumference of one blade opening of the auger
a:Inner circumference of one blade opening of the helix
R: Blade opening outer radius
r:Inner radius of blade opening
Ω: Angle between blade opening edges
2-CAPACITY ACCOUNT OF THE SCREW CONVEYOR
Carrying capacity(Ton/hour)= Specific gravity(Ton/m3)* Screw cross-section area(m2)*Transfer speed(m/min)*60
Q= 60* λ* k* δ * A* V
Q= 60* λ* k* δ * (π (D2-d2)/4)* (S*N)
The main factors that determine the screw capacity are the screw speed N(rpm) and diameter (D) values.
Q= Screw conveyor capacity (Ton/hour)
A= Screw cross section (m2)
V= Transfer speed (m/min)
λ = abrasion factor of the material to be transported (See Table 1)
k = Conveyor ground angle factor. (See Table 2)
δ = Density of material (Ton/m3)
D= Outer diameter of the blade of the auger (meters)
d = Diameter of the worm shaft (meters)
S= Screw pitch (meters)
N= Screw speed (rpm)
Speed ​​(N) Selection in Cement Screws
Screw diameter, pitch, pipe inner diameter, density, angle, abrasion factor are important factors when calculating the speed.
As the specific gravity, abrasiveness, and helix diameter of the transported materials increase, the helix rotation (N) should be kept lower.
In each revolution, the helix provides 1 turn of rotation.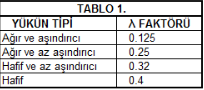 3- Spiral Conveyor Blade Opening Calculation
In Screw Conveyors, the leaves are usually welded to the spindle. Spiral is produced according to the desired diameter, pitch and thickness. The single pitch blade opening formulas of the screw conveyor are as follows.